13.10.2010
F-Gui 1.2
- Fancy Game User Interface -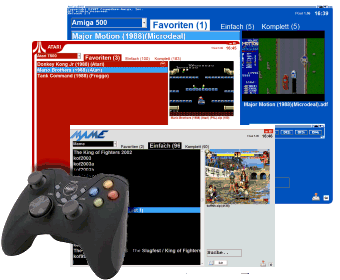 Windows-Multi-Emulator- Interface, optimized for Gamepad / Joystick - control.
- free for non-commercial use -
Features:
+ Joystick / Gamepad support
+ Auto-mouting CD-Images*
+ Game-title preview
+ works with almost every emulator
+ Special features for WinUAE (smart Disk-insertion)
+ Quit Games via Remote Control*
+ Skin-Support (customizable for each Emulator)
+Scalable GUI + free font size (for TVs)
You can customize / add all kinds of emulators like: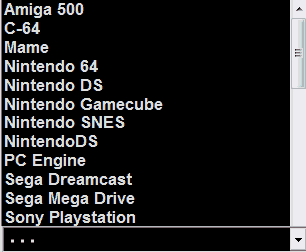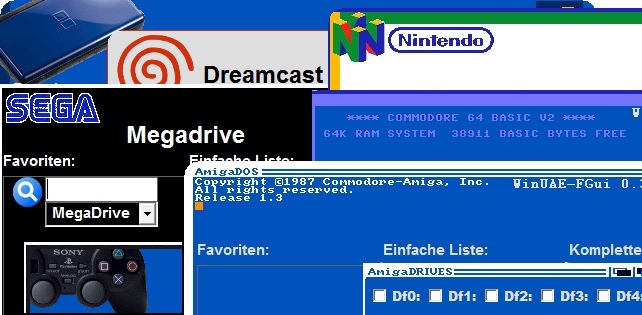 Use of this program is on your own risk!
Download: F-Gui (full) (2.3 MB)
or:
F-Gui (exe-only) (<250 kb)
The Emulators are not part of this Program, but they can be downloaded for free.
Supported:
Atari: 2600, 5200, 7800, Jaguar, Atari Lynx, Atari ST
Commodore: Amiga, C64, CDTV + CD32
Nintendo:Gamecube,, Nintendo 64, NES, SNES
Sega: Dreamcast, Sega CD, Master System, Mega Drive, Saturn, X32
Sony: Playstation , Playstation 2
Other: Panasonic 3DO, MAME, Armstard - Schneider CPC, MSX, NEC - PC-Engine (TurboGrafx)
Background:
I wrote this program after a nice "old-school-game-night" Party with some friends.
It was a lot of fun to play the old games again, but the Emulators themself sucked. All the time we had to stand up from the
Couch to switch Roms / Disks and change the configuration (specially on WinUAE).
So the beginning task was a Launcher for WinUAE which selects the needed Disks of a game automatically to the virtual drives.
After a few days the program grows and now has a bunch of features as you can add all kinds of Emulators, with a unique Skin for each of them.
I added a Joystick - navigation with 4 Button support for Game select / start, Tab switch, switch Fullscreen / Normal.
My Tip: If you have a Media-Center Remot Control you can use the "Power Off" Button
to shutdown the Games and go back to the FGui interface
The F-Gui is protected againt Alt+F4 (which the remote sends) ... no keyboard needed.. :)
Next party can come.. ;)
Configuration & first steps >>
Version - History:
New in vers 1.05:
Show In-game screenshot / title or flyer (jpg, png ..)
Alt+arrow keys resize window height and width and save last posiition on exit
F-Gui is now a portable application!
New in vers 1.02:
Automount CD-Images on Gamestart (need installed Deamon Tools)
Support for more Emulators
...lots of Bugfixing and GUI-changes
New in vers 0.8a:
New algorithm for multi - disk - selection
New in vers 0.8:
- Alias-Names support (Example for Mame)
Lots of bugfixes and changes..
New in vers 0.6:
- Joystick / Gampad - control
- Emulator Switch and lots of UI and Program changes
- Skin support
- Online Updater
- english & german language support (almost done..)